Cairns Brothers
The Brothers organisation as a sporting identity was first established in Brisbane in 1919 by the Christian Brothers as an outlet for students at Christian Brothers and Catholic Schools, in a culture that was built of RESPECT – COMPASSION – COMMITMENT and COMMUNITY.
This association first bore the term 'Fish Eaters' and later 'Fish' for the clubs roots as a catholic club and the tradition of eating fish on Friday's.
The colours chosen by the Brothers club were blue and white Butchers Stripes – that today are the team colour of the majority of Brothers Rugby League Football Clubs.
Brothers Clubs were formed in other centres in later years with Rockhampton Brothers 1920  – Ipswich Brothers 1920 – Townsville Brothers 1922 – Cairns Brothers 1926 – Toowoomba Brothers (also known as All Whites for a period) 1942 – Bundaberg Past Brothers 1947 – Darwin Brothers 1958.
The Brothers Confraternity now boasts 35 Junior and Senior clubs around the country.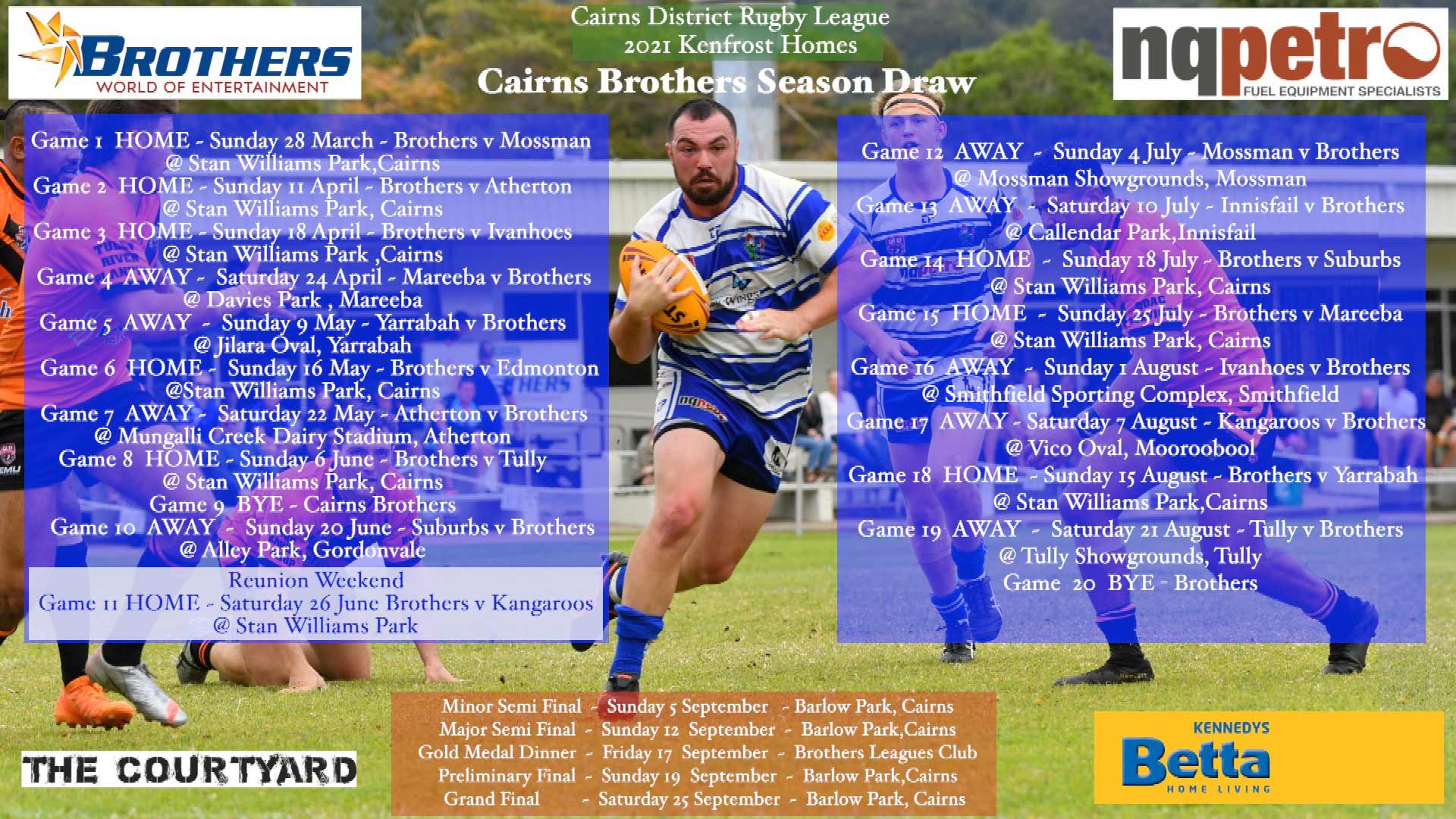 Coaching personal
A-GRADE COACH:
Jordan Biondi-Odo
A-GRADE ASSISTANT COACHES:
Ben Fitzpatrick & Nick Harrold
STRENGTH & CONIDTIONING COACH:
Craig McKell
A-GRADE MANAGER:
Henry Williams
HEAD OF COACHING:
Tim Rumford
ENGAGEMENT OFFICER:
Jordan Biondi-Odo
RESERVE GRADE COACH:
Kyle Hansen
RESERVE GRADE MANAGER:
Mark McDonald
UNDER 18 COACH:
Brian McEvoy
UNDER 18 MANAGER:
Karen Salecich
UNDER 18 PRESIDENT:
Bernard Sabadi
UNDER 18 SECRETARY:
Dosena Mabo
For additional information on Brothers Cairns Rugby Leagues including game times, player registration and training please visit www.cairnsbrothers.com.au. 
For any enquiries, please email: rldevelopment@brotherscairns.com.au